The government has made a proposal on new cost support on October 29, 2020. The State Treasury handles the payment of cost support on the basis of the law. The proposal is being considered by Parliament and the law is expected to enter into force in mid-December.
Payments of cost support can only start after the law enters into force. The State Treasury must wait for the end of the parliamentary handling and the law's entry into force before opening the electronic application, as the law may still be amended in the Parliament. The Ministry of Employment and Economic Affairs informs about the progress of parliamentary proceedings and is responsible for inquiries.
The State Treasury already has a data-system for cost support applications and payments. The system is being tailored to process the new support.
Timeline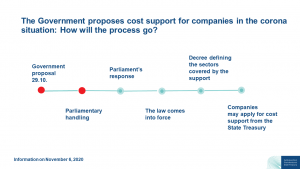 What can my company do while waiting for an application period to start?
It is a good idea to prepare for the application period before it starts. For example, you should check and take care of the following things before starting to fill out the application:
* We would recommend making sure the following are in order: Using Suomi.fi Authorizations, either an individual authorised to sign for the company or an authorized party may make the application. The applicant should check that any signatory matters are in order. If there are issues or matters requiring rectification in terms of the company's signatory rights, they may be rectified by contacting The Finnish Patent and Registration Office >
* It is also worth checking that any measures required to permit a party to act on the company's behalf have been taken care of in Suomi.fi. Authorizations required for representation on behalf of a company/association can be taken care of through the Suomi.fi Authorizations service >
Support for business costs can be applied for with an authorization under 'Yritysrahoituksen hakeminen' ('Applying for company financing').
* In order to apply for support, the applicant must have a Business ID. For further information: The Business Information System >
* Support for business costs may only be paid into accounts that the company has notified the Tax Administration of. Check the account number you have provided to the Tax Administration and provide a new number if necessary. My Vero >
What are you looking for?
Business cost support – 2nd application round:
Business cost support service page – 2nd application round >
Ministry of Employment and Economic Affairs:
Ministry of Employment and Economic Affairs current issues >
Business cost support  – 1st application round:
Business cost support service page – 1st application round >