The Government submitted a bill on the continuation of business cost support to the Parliament on 29 October 2020. Amendments in cost support are proposed in order to better meet companies' needs.
The fundamental principles of the support shall remain unchanged: The purpose of the support is to help companies deal with the difficult economic situation caused by the corona pandemic. The support is compensation for salary expenses and those company costs which are difficult to adjust. However, the support does not compensate for the reduction in sales.
The amendments to the law are expected to enter into force in December 2020, and the State Treasury aims to open an application period for business cost support by the end of December.
It is not yet possible to apply for the cost support.
Information about the reintroduced cost support
Cost support is intended for companies of which turnover has decreased significantly as a result of the corona pandemic, and which therefore have difficulty managing inflexible wage costs and other business expenses.
According to the government bill:
– The business cost support can be applied for even if the company has already received other forms of direct support to mitigate the effects of the corona pandemic. Grants already awarded will, however, be included in the calculation of the cost support, so that the total subsidies do not exceed EUR 800 000.
– A significant reduction in the company's turnover continues to be a condition for cost support. The decline in net sales is examined at both industry and company level.
– In addition, companies must meet other legal conditions for granting aid.
– The length of the support period will be extended to five months.
– The minimum turnover limit is removed.
– The minimum aid paid shall continue to be EUR 2 000 and a maximum of EUR 500 000.
– The sectors covered by the aid will be regulated later in a separate decree.
The government's bill can still be changed during parliamentary negotiations.
Schedule:
It is not yet possible to apply for the cost support. The State Treasury will announce the start of the application period on its website and on its social media channels.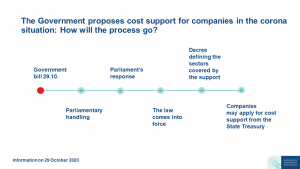 At this stage, inquiries are answered by the Ministry of Economic Affairs and Employment. It is worth following the information provided by the Ministry of Economic Affairs and Employment.
More information:
Ministry of Economic Affairs and Employment press release >
Government proposal to Parliament for the amendment of the Act on Support for Business Costs >