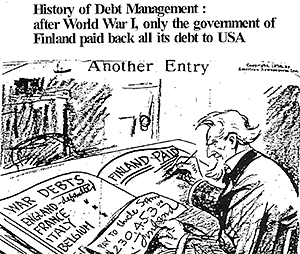 The State Treasury has seen its share of characters in its time, and there are stories to prove it. This section is a collection of some of those stories passed on to new generations of State Treasury employees through oral tradition. Let's start with a cartoon published in an American newspaper in 1938 on the failure of many countries to pay their debts. The only country to pay back their debt was Finland. The reputation of a good debtor made it easy for Finland to secure new loans. (Source: Nars, Kari 2002: Mahtimiesten matkassa, image supplement).
Fabrics and access control
Being a stern and unmarried woman, senior treasurer Greta Walin features in many stories. Every year, she served coffee in her office on the name day for Impi, who knows why (Impi is a woman's name. It also means 'virgin.').
"Are you a good girl?"
Senior treasurer Walin interviewed a 17-year-old girl who wanted to work at the State Treasury. The most important deal-breaker question was: "Are you a good girl?" – Apparently, she was, and she was hired at the Treasury. In the mornings, her first assignment was to backcomb and style Miss Walin's hair. Senior treasurer Walin was strict about manners: employees would stand up when a supervisor entered the room and there were to be no bare arms or legs to be seen anywhere. Miss Walin would also provide useful tips on where to purchase the lining material for dresses to ensure that the skirt would make just the right ruffling sound for a fine lady. Senior treasurer Walin was a member of the board of directors. The board would have lunch each day at noon in the staff restaurant at the then Postisäästöpankki bank. Everyone knew that the ladies' room had to be empty at 11.50 am, because that was when Miss Walin was preparing for her lunch. As there was no access control per se at the time, senior treasurer Walin served in its place at the Fabianinkatu office. Personnel entered and exited the building through an archway with a gate, and the porter was not allowed to open the gate before Miss Walin herself left.
Pledges and proposals of marriage
The Pensions unit was preceded by the family pension fund, which was renamed the family pension office in the 1950s and incorporated into the pensions department and the current Pensions unit on 1 January 1960. The family pension office had a Swedish-speaking porter/cleaner by the name of Mrs. Gillberg. Mrs. Gillberg was quick to open the door when the doorbell rang (the office operated out of a residential flat on Kasarminkatu). She would usually ask the caller: "Are you a government employee with papers?"
"He ain't here, he's having his lunch."
If the caller wanted to speak to office manager Heikki Tuominen, for example, who later served as the chief director of Postipankki, Mrs. Gillberg might say: "He ain't here, he's having his lunch." Registered post was carried by the grey-haired Mr. Grev, who would hug all the women in the office as he passed by. Seeing as both the porter Mrs. Gillberg and Mr. Grev spoke Swedish, the former would say: "Jag är ingen herrhanduk." When it comes to Mr. Grev who would carry the registered post and his opinion of accountant Sirkka Talvi, he said: "Sirkka is like cotton wool." The following events were connected to the parliamentary elections. Office manager Heikki Tuominen had said that if Aune Innala were elected, he would eat his old hat. Innala was elected and everyone at the office was served cake in the shape of a hat.
"How about you marry me?"
Before the State Employees Pensions Act took force on 1 January 1967, quite a number of extra pensions were granted compared to the current practice. If you were resilient enough in applying, you might be granted a pension, as the process was based on discretion. A former government employee A.A. had been denied their pension many times. Then one day they came to visit accountant Sirkka Talvi, who was handling the matter, and said: "Oh, happy day! I was granted an extra pension and I won my case on child support. How about you marry me and we move to Northern Karelia, drink Korona coffee and have a dance now and again?" The pensions office had a department head by the name of Jyrki Jääskeläinen and one of the officials was Miss Ollberg, whose first language was Swedish. Jääskeläinen entered Miss Ollberg's office on a cold winter's day and asked: "Why have you opened your window? It is freezing outside!" To which Ollberg said: "Well, there was a typewriter repairman here, and his junk smelled so terribly bad."
"You must be wondering why the telephone call was cut off. The battery died in my hearing aid."
During the government employees' strike in 1986, a student who had just completed their matriculation examination was apparently manning the telephone alone in the pensions office, when the phone rang and a woman who seemed quite old started talking on the other end. Suddenly the telephone call was cut off as if in mid-sentence. Then, a few hours later the same caller called again and said: "You must be wondering why the telephone call was cut off. The battery died in my hearing aid and I had to go out and buy a new one." We had the occasional party at the pensions office, and once again we asked office manager Jyrki Jääskeläinen permission to sing to him. The song was 'Jyrki boy,' with lyrics such as: Jyrki, Jyrki älä tyrki, Jyrki tee joskus miehen työ… (Jyrki, don't push us around, be a man for once…) A disgruntled customer arrived at the information desk with a few choice words about their pension decision. They swore so much it was hard to tell what they were trying to say. The customer service agent was terrified and lost for words. An energetic officer stepped out of the room next to the information desk and started helping by swearing at the customer themselves. The customer calmed down and started behaving. The officer then asked why the customer had stopped swearing. To that the customer replied: "Well, I was so taken aback by you swearing." Nowadays, the customers of the State Treasury are very international and it is no longer enough to be able to speak both Finnish and Swedish. An English-speaking teacher had asked AM for advice with their pension. The teacher was already retired and wanted to know whether they could continue working while they received their pension. AM said they could work as much as they want. To this the teacher replied: "Anja you are beautiful." Immediately, AM notified the office manager that she would quit working at the treasury as soon as they invent the videophone. AM was told by someone wiser that the teacher had not meant it that way. This someone wiser was AM's son.
Stories about directors general
Previously, people never really interacted with directors general. It has been said about Director General Kaitila that he stood strongly for savings in his time as the minister of finance and there really were strict rules about spending. Then, when he started as the director general of the State Treasury, he immediately ordered a new rug for the board of directors' office and an official car for the State Treasury. This was frowned upon among the employees.
"Oh Director General, we're having a baby!"
An employee who had been unmarried for a long time got married. A short while later she announced the good news of an addition to her family. She was so excited that she rushed over to Director General Minni to convey the good news: "Oh Director General, we're having a baby!" Director General Minni stood up behind his desk angrily and said: "I have nothing to do with your baby!" It was customary to address directors general formally, but Teir started to call people by their first names at some point. At first it was difficult, seeing as people were used to addressing directors general formally. Formal address was commonplace in general. JH shared an office with a female co-worker for three or four years and kept calling her Ms for the entire time. As a man, JH could not suggest they start using their first names, and his co-worker did not do it either. Sometimes people dropped the formalities at Christmas parties. On Fridays, Director General Teir used to order jam-filled donuts from the Eromanga bakery. He would then invite an employee up to his corner office for coffee and a donut in the afternoon. There, a certain finance director, then an agent, has sat on the edge of a slippery sofa trying to navigate a sugary donut, hot coffee and conversation with the Director General in a civilised manner. Listen to the entire story here >