In the year characterised by the outbreak of the COVID-19 pandemic, the Finnish economy proved resilient and emerged relatively well. General government debt in relation to GDP remains moderate at 69 %.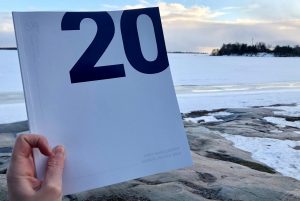 The Debt Management Annual Review summarises the funding and liquidity management operations of Finland's central government and provides an outlook on the Finnish economy in the year 2020.
In 2020, the Republic of Finland successfully carried out an elevated issuance programme totalling EUR 39.3 billion. Net borrowing amounted to EUR 18.3 billion. At the end of the year, central government debt totalled EUR 124.8 billion (53.1% of GDP).
"The pandemic has spilled over to 2021, and the government actions taken to support society and the economy will mean a substantial budget deficit in the general government finances in 2021. As a result, the net borrowing requirement will remain high, at about EUR 12 billion. Nevertheless, we expect the growth in the debt-to-GDP ratio to slow this year," says Teppo Koivisto, Director of Finance at State Treasury.
Followed by the ESG inspired annual reviews with a special focus on Environment (in 2018) and Social (in 2019), this year's Annual Review highlights Governance. Sound governance is a traditional stronghold for Finland and its fundamental features, such as political stability and the rule of law, are at the core of the Nordic model.
"These factors reflect a high degree of resilience and, further, define our willingness to service and pay debt", Teppo Koivisto says.
Finland works: trust and world-class digital services lead response to COVID-19
Two guest authors, Director General Anna-Maija Karjalainen of the Finnish Ministry of Finance and Professor Emeritus of Administrative Law, Olli Mäenpää, give further perspective on the role of good governance.
Anna-Maija Karjalainen discusses digitalisation as the enabler for people-oriented and proactive society. Finland ranks high in public sector digitalisation, and the use of digital public services – already world-class before the pandemic – has since increased multifold.
"Almost the entire Finnish civil service changed over to remote work practically overnight. Of the total Finnish workforce, about 60 % moved to remote work without a hitch, which is a world record," Karjalainen says, highlighting the achievement.
Olli Mäenpää discusses how to maintain the high standards of governance as citizens' expectations rise. This requires continuous work: support, updates and reforms. "Good, predictable and reliable governance is beneficial for both individuals and businesses. It is worth investing in these objectives, and it may not even be expensive", he writes.
The Debt Management Annual Review 2020 is available online: